4 min read
The Benefits of Mobile SDK for Your Photo Product Business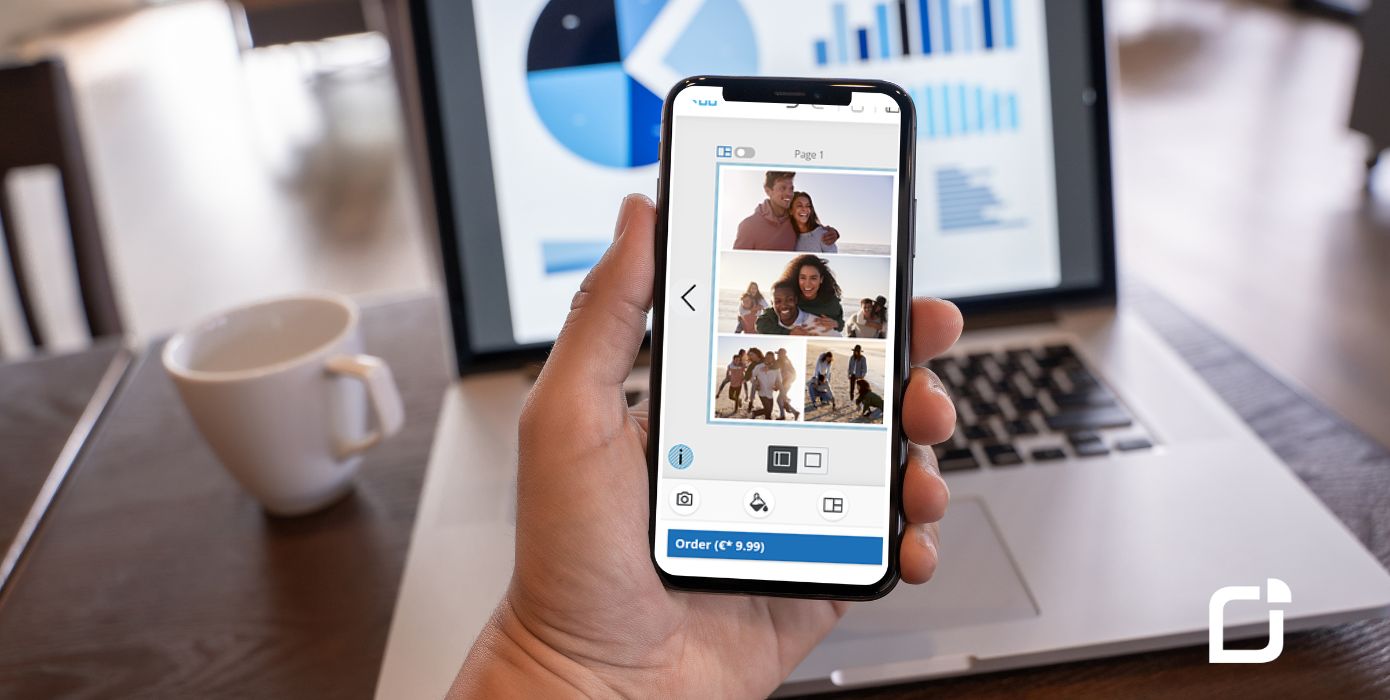 Given the success of smartphone photography, the worldwide market for personalized photo products is constantly expanding. The vast majority of these photo-related purchases are done initially from mobile devices. Retailers and online photo businesses who intended to grasp on this mobile opportunity have faced a difficult obstacle: creating an app-based photo editing e-commerce environment can be quite challenging. Dive into the following article to find out more about the numerous benefits a mobile software development kit has for your photo product business.
---
Contents
---
1. White Label Photo Editing Tools for White Label Apps
As already mentioned in our previous article ''6 Photo Product Industry Predictions for 2023'', some businesses choose to go through the hassle of developing mobile photo commerce features from the scratch. Yet, whether done in-house or outsourced, substantial time and resources must be committed — and there is no assurance that the outcomes will meet the needed standards.
Instead, by outsourcing the heavy labor to personalized photo product solutions, businesses can focus on providing unique experiences and growing their user base.
Visit our website to get started with your photo commerce app business and discover how to incorporate multi-platform photo product editors into your mobile applications.
ip.labs Mobile SDK is the only out-of-the-box, easy-to-integrate photo commerce toolkit that lets you embed photo product editors directly into your mobile solutions. No need for in-house expertise, the no-code tool set lets you offer all the benefits of personalized photo product editing without the hassle of added development. Here are some of the benefits a mobile SDK offers to your business:
Grow Your Client Base: Appeal to new businesses by offering a full range of photo product tools as part of your solution.
Enhance Your Software: Build on your existing mobile apps with an attractive tool set that meets changing client needs.
Accelerate Time to Market: Plug in core components and quickly create a seamless customer journey between devices.
Deliver Unique Experiences: Easily configure photo product editors to match your clients' unique look and feel for a fluid brand experience.
Save Time and Resources: Avoid additional in-house development with a no-code, white label photo solution.
2. Key Features of MOBILE SDK
Here are some of the key features of the ip.labs mobile SDK:
Native Mobile APIs made with Swift & Kotlin for seamless integration to your existing solution
Custom Branding with configurable white label editors that preserve your client's unique brand identity
Fast Backend Integration with both the print production process and existing apps, helping you expand your offering
End to End Workflows to manage the entire user journey, from defining product portfolio through to payment
Better Conversion with AI-powered tools that assists users during their product designing journey
Huge Portfolio of Personalized Products that can match new customer needs — from photo books to customized games and puzzles
Multi-platform approach with cloud storage for maximum flexibility and regular product updates
3. Key Benefits OF MOBILE SDK
Grow Your Brand: Capture new mobile-driven audiences with a full product portfolio available through your apps.
Expand Your Mobile Presence: Establish a mobile footprint or easily build on your existing offerings.
Accelerate Time to Market: Plug in core components and quickly create a seamless customer journey between devices.
Deliver Unique Experiences: Configure photo product editors to match your unique look and feel for a fluid brand experience.
Constrain Costs: Reduce costs by up to 80% versus in-house development.
4. Leverage a Best-in-Class Network of Partners
Looking to expand your solution offerings but lacking photo product expertise or partners? You can now enjoy a seamless introduction to a fast-growing market with the help of ip.labs' Mobile SDK. Not only will you benefit from our established partner network and industry expertise to expand your business, but you will also have the chance to extend your existing software portfolio to include emotional photo products and increase your reach. Don't worry about building and maintaining a tool set in-house – our white label solution will simply do all the hard work for you. Last but not least, our mobile SDK allows your photo business to leverage in-app promotions and upselling, so you can boost your conversion rate, stress-free.
---
With our mobile first photo product editors now available for your mobile apps, you can easily integrate multi-platform photo merchandise editors into your mobile app and catch your customers wherever they are in their journey. The daily emerging trends require modern and fast solutions, so your business can always thrive! With all of this information, you are probably wondering what ip.labs' Mobile SDK for Photo Commerce has to offer technologically. We have gathered all that you need to know in one place.

Hey there! I am a content creator & marketing assistant at ip.labs! I love the whole process of article creation and enjoy writing blog posts. They not only provide the readers with significant interesting information but help me, as a writer, to learn a lot of new things throughout the research and blog post finalization process. It is a win-win situation!
FEATURED
PHOTO BUSINESS NEWS RIGHT INTO YOUR INBOX
Sign up for the ip.labs monthly now