3 min read
Something is Going on at ip.labs - We Renewed our Brand
Since we started in 2004 as one of the first providers offering a photo product software enabling businesses to sell personalized photo products under their own brand, ip.labs became a strong white label full service solution which can adapt seamlessly to different business setups.

Having evolved into an extensive platform, renewing our brand seemed the next logical step to reflect our values better. After not having changed our brand items in nearly 20 years, we're pleased to announce that tackled a brand refresh in 2021. This post throws the spotlight on the transformation and the new ip.labs brand experience.
Cherishing our Company History and Entering a New Era
Refreshing our brand is important to reflect our evolution into a company that has to offer much more than when we started many years ago. We have kept our brand items unchanged for a long time, despite the fact that innovating our company and our solution has always been one of our main drivers.

This is because we are proud of our brand and our company, and ready to preserve the values which make us stand out from others in the industry. But we also have expanded our business within 20 years. Also, our software needs to evolve continuously to reflect market changes, and in the long run we want our brand to reflect that as well. 2 decades are a long time, why we are now feel forced to skip a few evolutionary steps in our design.

We help companies to accelerate their business with selling personalisable photo products - no matter if they are focused on selling emotional photo products only or add them to their wide range product portfolio.
How we Developed our Brand's New Appearance
In order to create a fluid visual brand experience, we analysed what changed and added up to our brand. We partnered with a talented designer and his team, who have guided other companies before us through the vast sea of rebranding. The focal point of this journey was our logo.
Diving in our Brand Personality
Before we decided to change the visuals which we have all grown fond of throughout the years, we investigated in what had changed in 20 years and what it was that our old visuals could not communicate.

This is when we put tour purpose to the test: what do we do at ip.labs and how? Why are we doing what we do? Which inevitably led us to brand methods like Simon Sinek's Golden Circle. Furthermore, we created buyer personas to even better understand what our target audience needs. We asked ourselves: If ip.labs was a real person waiting in line at a buffet chatting with other guests on the party, how would that person's character be like? To answer this, we dove into our mission, vision, values and started to look at many chats with our partners from a new angel. We did all we could to become extremely attentive listeners.
Transforming the ip.labs Logo
When we started the rebranding process, we did not yet know if we would refresh our logo or develop something new, but it became clear quite quickly that so much had changed in nearly 20 years - the market, our strategy - that putting a little makeup on the old logo would not be enough: during the process, the logo transformed into something new, still referencing the old ip.labs brand very subtle (because we want to take something with us on continuing our journey) but presenting something new.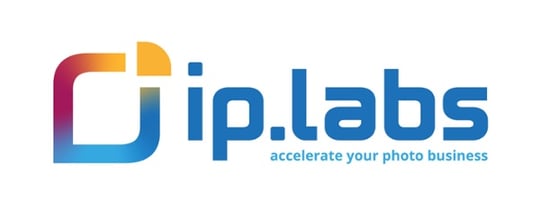 Changing Imagery, Icons & Patterns

Our logo is one of the most important brand items, but not the only one. To help support our brand image, we also developed a new colour scheme, new icons and patterns.
In the near future, you'll see more of these visual items on our company website and in other brand materials. We hope it will reflect what is summed up in our updated tagline: ip.labs enables you to accelerate your photo business - in any way we can.
Our core values remain, and we promise our partners we will continue to be the company they have always relied on. With our transformed brand, we are now able to communicate precisely what we stand for and let the world know and feel it.
As a digital marketer, I believe that (just as it is in B2C, where the most successful companies focus on their customers) a partner-first approach is what separates good B2B companies from great ones.
FEATURED
PHOTO BUSINESS NEWS RIGHT INTO YOUR INBOX
Sign up for the ip.labs monthly now