9 min read
5 Visual Marketing Strategies to Consider for Your Photo Business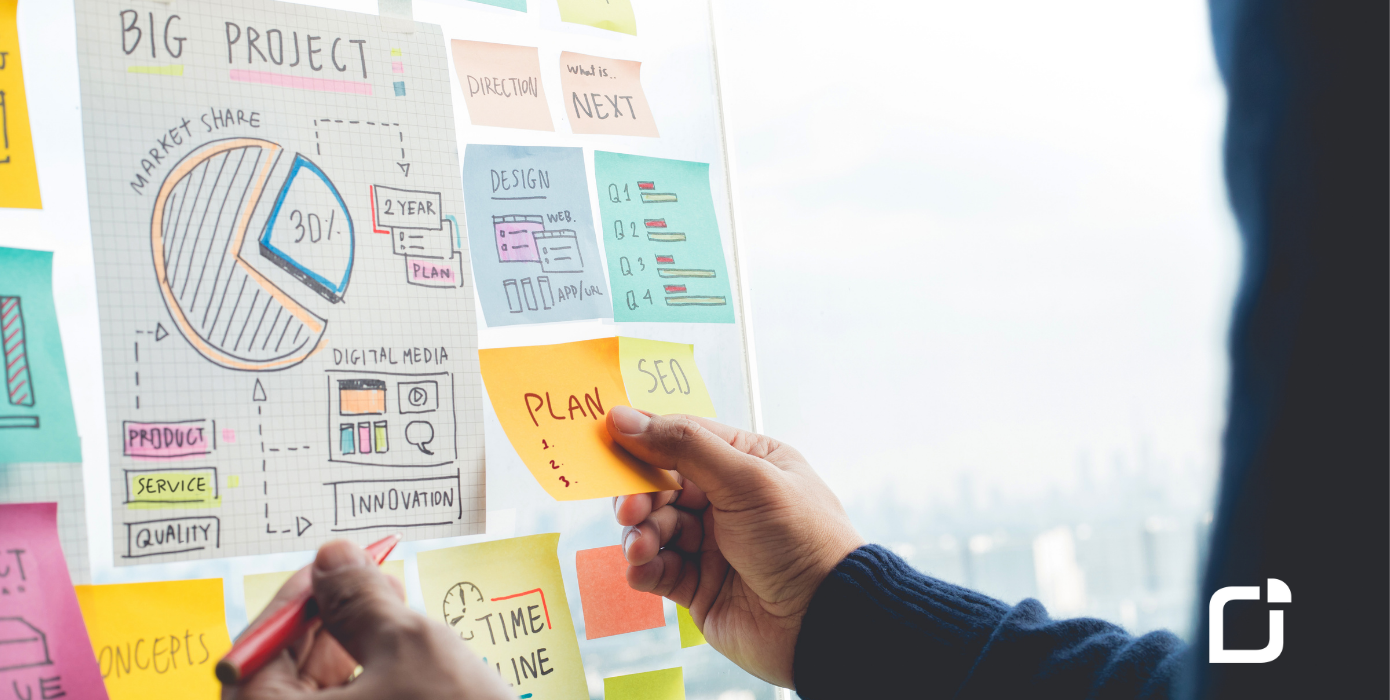 The online presence of any business is undoubtedly connected with its visual appearance: from the logo of the company and its placement to the footer of the website. Visual elements are crucial when it comes to developing content that will help the company stand out and attract customers. Not only do these visual components make text-based information more appealing, digestible, and memorable, but they also have the power to transmit the company's vision and mission without the need of words.
Your visual branding is made up of all the imagery connected with your business, from colors and fonts to logos and imagery. Any branding strategy would be incomplete without these aesthetic components and even more important — nowadays their significance is growing rapidly, and businesses should always watch for the newly occurring visual marketing trends.
The following article will give you a deeper insight into the most important visual marketing strategies to consider for your photo business and provide essential tips on the current design trends to help you stay one step ahead of your competitors.
Contents
---
Why is Visual Marketing Important for Your Photo Business
Generally, humans depend on visual material for faster information assimilation. Consequentially, from a business perspective, visual information is much more likely to stand out for customers than other types of marketing content. A goldfish's average attention span is nine seconds, according to researchers. On average, a person's capacity to concentrate is gone within only eight seconds. Therefore, the consumer must get all the important information within this short time span. This is less likely to be realized via text, and not all images and infographics can be considered good enough to attract the viewer's attention, and most important- to keep them on the page.
"A picture is worth a thousand words," — you've undoubtedly heard this before. It is the fundamental core of visual marketing, as it refers to how visuals may be a more effective approach to express what you need at times. Visual marketing is based on the fact that humans are visual beings. When people look at visuals instead of text, they absorb more content. One of the many fascinating truths about visual marketing is that humans can digest visuals 60 thousand times faster than text. This puts a great emphasis on visual marketing.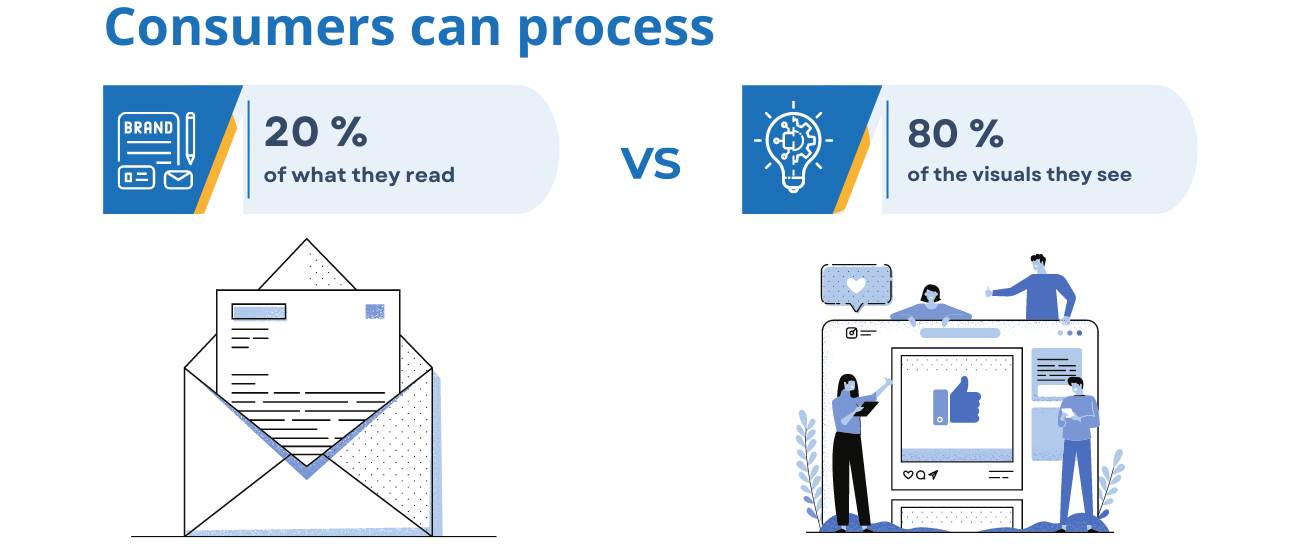 Visual Marketing Makes Your Brand Stand Out Effectively
Your website pages do not have to include complex graphics. The most basic image, when utilized effectively as part of your digital marketing plan, may increase brand recognition, making you stand out from the crowd. For visual marketing success, it is essential to keep things simple and to utilize pictures that represent your brand's excellence. But keep in mind — a brand might suffer more damage from poor photography and bad graphics than if no images are incorporated at all, especially those who sell personalized photo products!
Visual Elements Boost Inbound Marketing
Today's inbound advertising strategy focuses on gaining the attention of consumers who aren't interested in being bombarded with advertisements or information. It gives them the information they're seeking right away. Businesses may appeal to new customers while also educating and solving their problems through this method. For mastering the photo product industry, this approach is exceptionally crucial. Even the finest material requires a little prodding to acquire engagement. In order to increase inbound traffic to your website or the location where your newly created content is published, use visual elements rather than text. A good example of this would be a banner directing to the new content, as well as a neatly designed call to action imagery, linking to it.
Visual Marketing Strengthens Your Brand's Identity
Your brand identity is made up of everything that makes your company unique. This includes things like your excellent customer service, high-quality printed products, unique design templates for photo product creation, creative packaging, and shop design. Consistency, on the other hand, is required to connect them all together. Visual marketing may be used to connect your target audience with your brand. To develop a consistent identity, use a meaningful logo and branded colors. You may also encourage customers to upload photos showing them using items created in your web shop, which they can then reshare to help spread the positive word about your brand. This aids in the further promotions of your company and may be used as a lead generation tactic.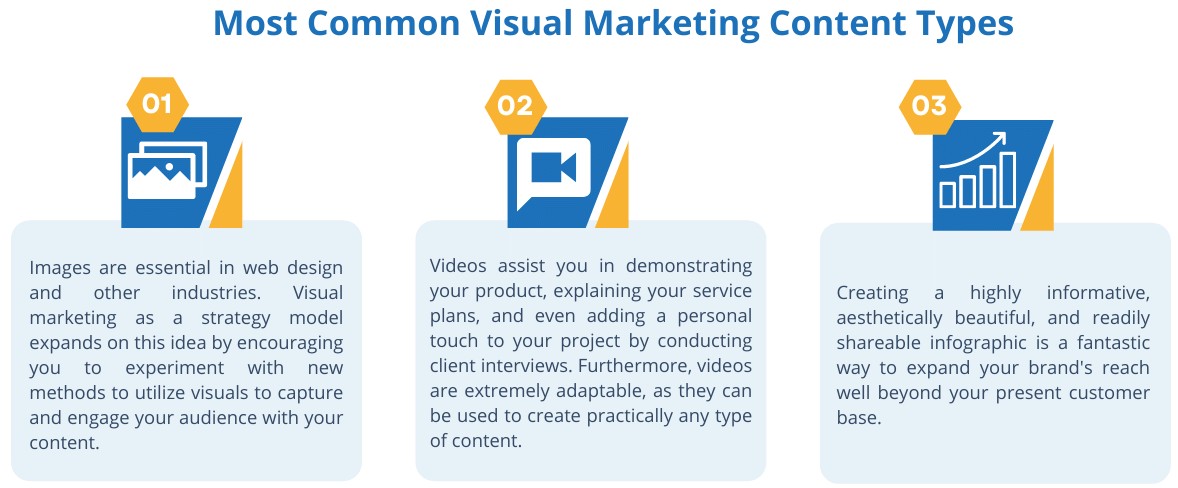 Which Visual Marketing Strategies are Beneficial for Your Brand?
The utilization of distinctive and relevant imagery is the core of visual marketing. This, along with unique design features, is intended to entice customers. Text advertising elements are less likely to be shared or clicked on compared to their visual counterparts. Visual marketing is an important part of your entire strategy as a photo business. Investing in it is critical to effectively increasing your brand recognition, whether you employ a graphic designer or go through the design process yourself.
Visual marketing requirements are especially high in the photo product industry. The quality of the visual content presented on your website can either boost your brand image or completely disappoint the potential customer. Without knowing the right elements to consider, you might face the danger of walking on eggshells. Here are a few strategies you should always incorporate in your online marketing so your business can always thrive:
1. Keep Visual and Textual Elements in Sync
Any material you include should be well-synchronized with the others. All your marketing elements — visual and textual — must be logically and visually connected. This entails striking a good balance between your resources and the rest of your marketing approach. Think about how each component of your visual marketing content piece interacts with the others. In-depth descriptions and brief labels benefit from the use of text. Visual components can assist fill in the gaps left by the other aspects and catch the attention of your audience. Here is a neat example from the website of myFUJIFILM:

Stick to using an image and a short text that visually complete each other
2. Stay True to Your Brand
Visual marketing makes use of a variety of content types to convey your message, but it doesn't mean you shouldn't stay on brand. Even on the most cutting-edge infographic or engaging video, your company must always be speaking the same way it always has by communicating the same ideals. Undoubtedly, the goal of visual marketing is to use the power of images to generate more effective content. Consider how your brand communicates, its colors, forms, and patterns as part of your planning and utilize all of these aspects while creating your content. Being faithful to your company's message is an important part of staying on brand. When it comes to communicating with your target audience, you must be consistent in how you present your brand. For example, it makes no sense to start releasing memes if you've never incorporated humor in your marketing plan before. Also, your branding must speak to the audience. If your target audience is happy families with kids, choose a more playful brand language. As a marketer, it is of foremost importance to keep in mind that the brand must fit the taste of your target group, not the one of your boss.
3. Keep Call-To-Actions Straightforward
Visual marketing may assist you in improving your online presence to the next level and generate more customer engagement. To do so, make sure each item has the right call-to-action (CTA) while keeping the piece's aims and target audience in mind. There are generally two key phases involved in creating a strategic CTA. The first is determining where you want your readers to go when they've finished reading that particular piece of information. Then you must come up with the correct message to encourage them to take action.
4. Customize Content to Each Platform
Remember to modify your visual marketing pieces to each channel you will share them on. Using the exact same material in several locations might have a negative impact on the chance to engage effectively. For instance, if you're sharing an animated video to Instagram, you should be aware of the time restriction. Also, because of the size, an infographic may not function well on that platform, but what if you break it into numerous pieces and make a carousel post? Due to these differences, it's critical to think about where your brand is displayed and how it communicates on each platform. With more channels, more time can be spent on such adjustments.
5. Reuse and Repost
Depending on how you handle it, a single piece of material might transform into a whole slew of others. This is especially essential to visual marketing, and it may help you get a lot more value out of your work while also learning more about your audience's preferences. To begin with, you do not have to limit yourself to merely submitting your work once. Create an editorial plan that allows for certain reposts, allowing your message to reach individuals who may have missed it the first time. Afterwards, keep an eye out for any possible remixes you could come up with. An infographic can be created from a video, or vice versa. When a single image is mixed with another piece of material, it might take on a new shape, generating much better results than the initial plan.
Visuals are not only essential for your webshop – unique design templates and design assets in the photo product editor also play an important role for your photo business. Once you have attracted customers and have prompted them to hit the "Start Photo Book" button, they begin a whole new phase of the journey on their way to an emotional, personalized photo product. Indeed, every customer expects a certain default set of themes to be available, like a Baby or a Holiday theme. Foster their emotional bond with your brand by giving them even more themes, stickers and other unique design assets that only your brand provides. This process sounds good in theory but you need some inspiration on what a unique theme could be, which not every photo business out there offers. Take a look at the infographics we prepared for you including 7 Photo Book Theme Ideas (+ a Bonus)!

In conclusion, visual marketing is about differentiating amongst a sea of competitors while avoiding the use of dull blocks of text in marketing materials. As a business in the photo product industry, you will benefit a lot by engaging your customer in your content and presenting the most important information in a few seconds via the right imagery. Giving customers something to do rather than read a paragraph boosts your brand's awareness as well as your bottom line. This is why you should be careful of not only choosing high-quality imagery, but also the right one- thought provoking and long-lasting to attract more customers and boost your revenue. This applies not only to what your shoppers see on your website, but also in your photo product editor.
Hey there! I am a content creator & marketing assistant at ip.labs! I love the whole process of article creation and enjoy writing blog posts. They not only provide the readers with significant interesting information but help me, as a writer, to learn a lot of new things throughout the research and blog post finalization process. It is a win-win situation!
FEATURED
PHOTO BUSINESS NEWS RIGHT INTO YOUR INBOX
Sign up for the ip.labs monthly now