12 min read
10+ Marketing Tools to Boost Your Photo Business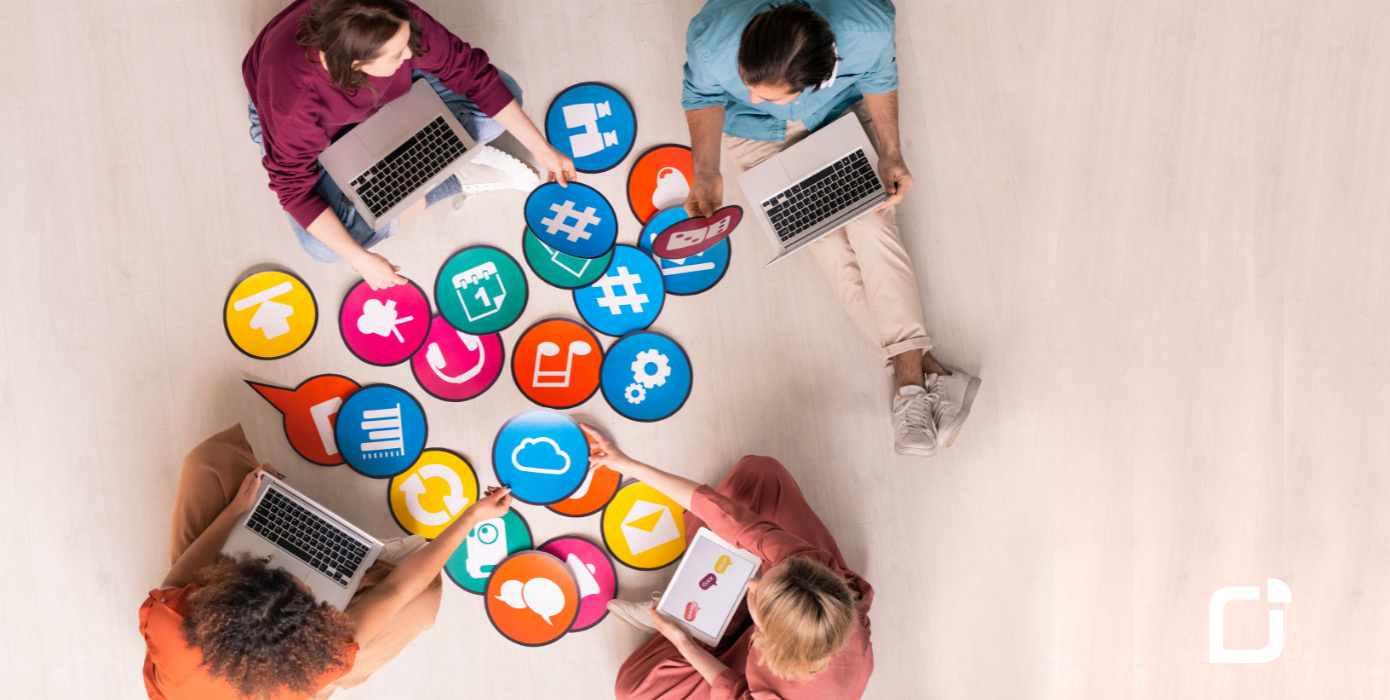 Mastering the art of marketing your photo product business requires to not only incorporate great promising slogans and words in the texts of your online platforms, or to present campaigns and include them in your content. Of course, you have to alert shoppers that your photo products are available and for sale, but you should also do it in the most effective, customer-engaging way — this what marketing your photo business is all about nowadays. The more individuals who are aware of your business and offering, the more likely you are to sell. You may already have a plan in place for next year's marketing, but this only will not be enough to draw attention to your brand and products.
Customers are necessary for your business to survive and develop. You must market your brand in order to attract clients. Back in time, it was a simple matter of choosing between a flyer, a brochure, a postcard, or a classified ad in the local newspaper. However, in today's digital age, the options are virtually limitless.
In the following article, you will get a better insight on which marketing tools are most essential to you as a photo product business with an online presence. We will look at the top ten marketing tools that will surely help you out in promoting your brand, as well as making your marketing strategies much easier and delightful to implement.
---
Contents
---
Which are the Top 10 Most Effective Marketing Tools for Your Business?
1. WEBSITE AND WEBSITE ANALYTIC TOOLS
Your website serves as a digital billboard for your company. Your online shop contains all of your items, services, information, and contact information. Your goal is to increase website traffic and convert prospective leads into customers and sales.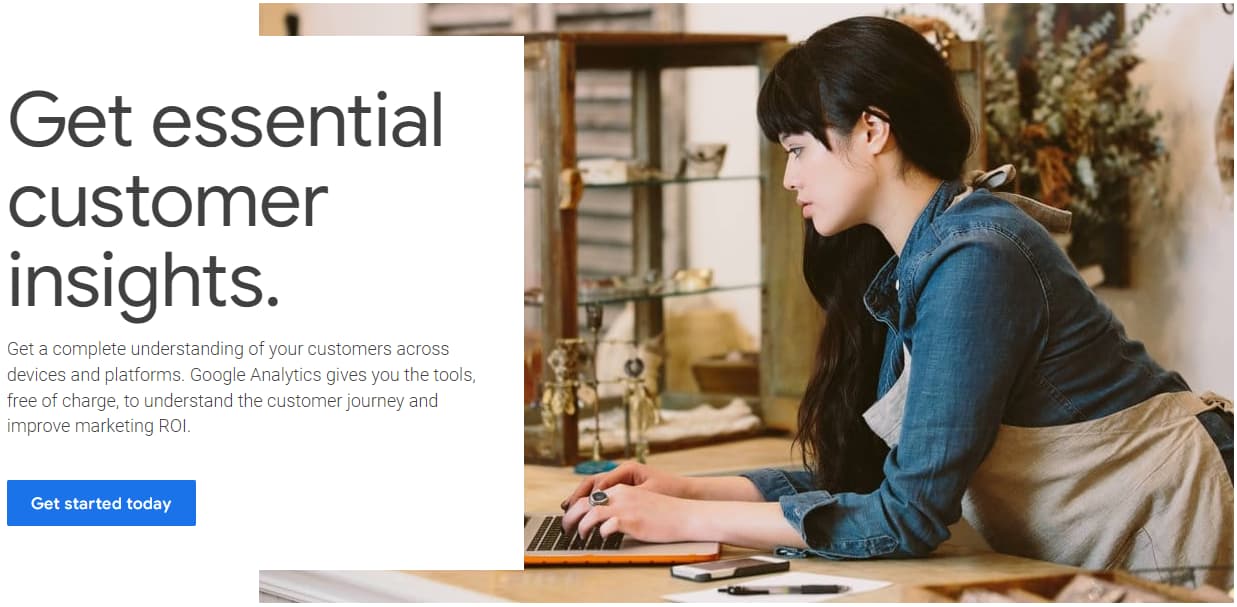 Google Analytics Home Page
Google Analytics is an excellent free marketing tool for tracking what happens when visitors come to your website. This is highly valuable since it shows you where your website's visitors are coming from. Finally, it's a collection of really important information obtained from your website's traffic. However, in recent times, there have been privacy issues regarding the use of Google Analytics due to lack of compliance with the GDPR guide in Europe.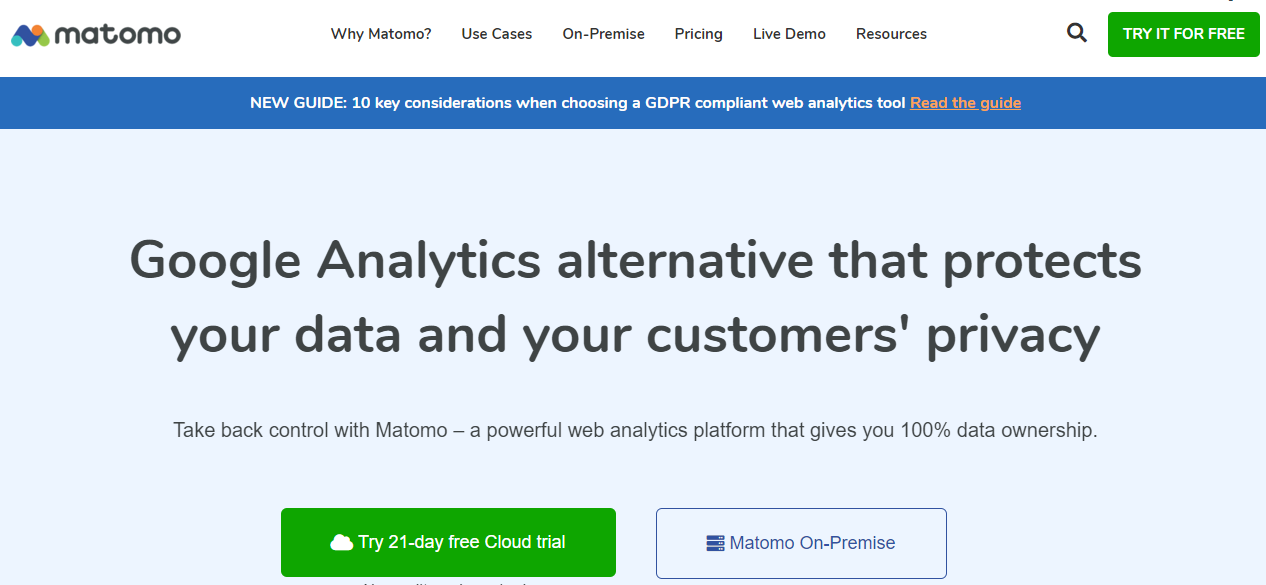 Matomo Home Page
Another great paid analytics tool is Matomo – "the Google Analytics alternative that protects your data and your customers' privacy". They guarantee a complete data ownership, that gives their clients the ability to safeguard their users' privacy. You have complete control over where your data is stored and what happens to it. Also, they make sure that your business is GDPR and CCPA compliant at all times. The monthly on-premise plan is free of charge but it requires technical knowledge, and a server.
As a photo product business, by using any of these tools you can get a very sufficient overview of where your most frequent customers are located, as well as which of your website pages are the most visited and a lot of other useful options to better understand your clients and comply to their needs.
2. CONTENT MARKETING
Contently Home Page
The most crucial component of content marketing is putting your material in front of as many people as possible. Of course, you can do this by promoting content on social media and via email, but there are tools that can help you distribute your content to a wide range of audiences with ease. As a photo business you need to use the most efficient way to market your brand and products. In order to build brand loyalty and make your customers stay, you have to keep them interested in your services by making the content you post attractive for the client. If you don't have the time to create your own content but want to use this marketing strategy to improve your company's visibility, there are solutions and tools that can assist. A great example of such a tool is Contently, which provides marketers with the technology, people, and strategic insights they need to develop stories that stand out. According to Contently enterprise, on the average, their clients generate $13.1 million in content ROI and 6x returns. The standard package for enterprise costs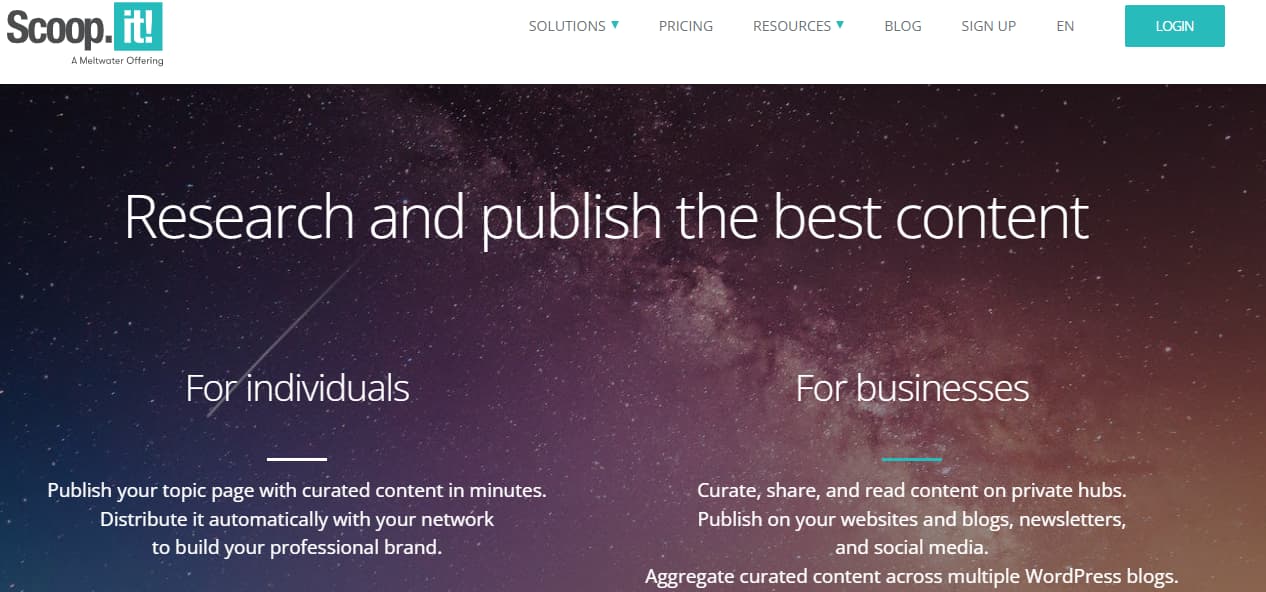 Scoop.it Home Page
Scoop.it is another content marketing tool that could help your photo business. It offers a lot of resourceful services such as curation, distribution, blog creation, content center, planning, maintenance, and analytics to help you optimize your content marketing efforts. The intelligent suggestion engine will fetch information based on your relevant keywords, and it will learn from your activities. Original and curated content may be published or planned with a single click across websites, blogs, and social media outlets. For instance, the new photo products you add to your website can be shared through all of your social media platforms in a matter of seconds. Scoop.it also provides a plug-and-play option that can help you create a content hub, as well as a smart calendar that notifies you whenever an available free content slot in your schedule which needs to be filled. It is free of use for individuals and professionals, but there are also a lot of additional services that require a paid subscrition.
3. Engagement and SEO tools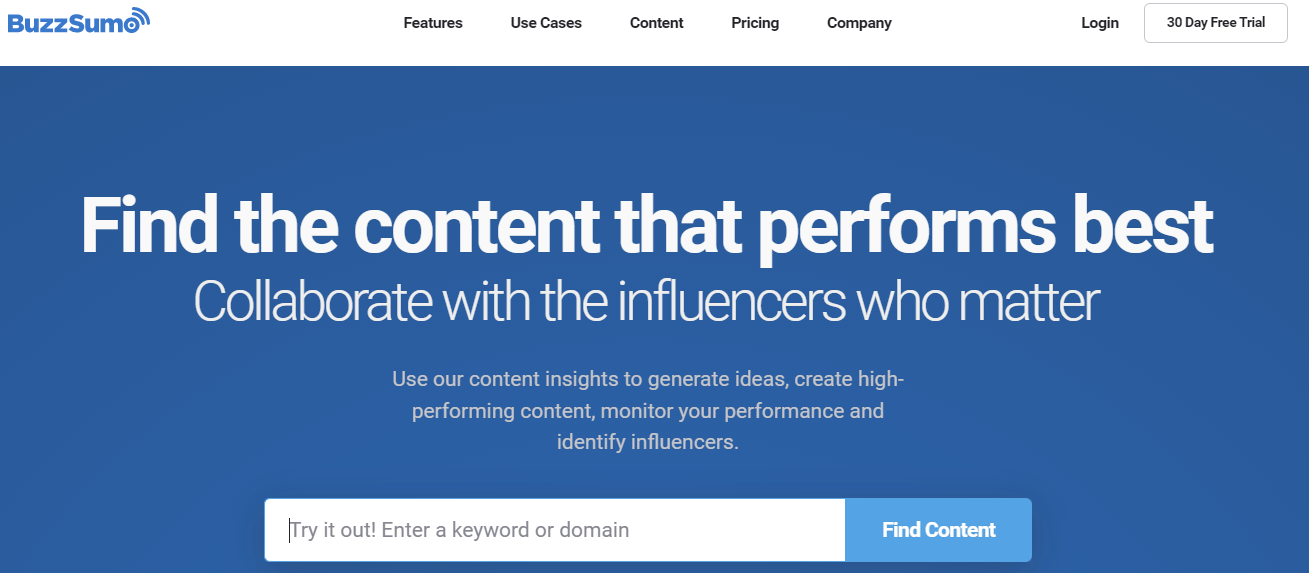 Buzzsumo Home Page
BuzzSumo is a tool that helps you to explore new potential outreach possibilities and locate compelling content. You may use the site to look for articles with the most shares, links, and comments. As a photo product business owner, it can also helps you to track down important influencers and well-known companies in the photo product industry, as well as monitor brand mentions, and backlinks, among other things. When you search for a topic, BuzzSumo will show you the most popular material based on total engagements – which are gathered from Facebook, Twitter, Pinterest, and Reddit – as well as the number of domains connecting to it. You can also look at popular content, backlinks for any site or page, compare domain engagement, and a lot more.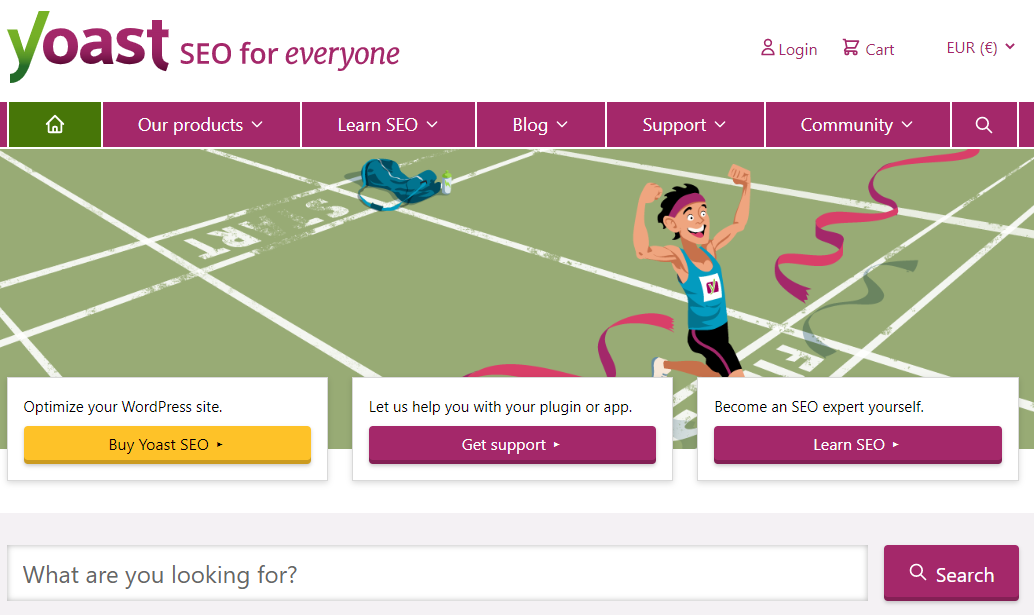 Yoast SEO Home Page
You must outperform the competition in order to rank well in search engines. Furthermore, you require a website that is better, quicker, and more powerful than those that offer or provide similar services. Yoast SEO is a WordPress plugin that helps you optimize your content and keywords to boost your website's search engine rankings. It is a powerful tool that may assist you in making your website as search engine friendly as possible, allowing visitors to locate, read, and engage in your content.
4. Content Creation and Design Tools
Remember our blog post about the 5 visual marketing strategies? If you haven't read it, check it out here. Images are essential for the online presence of your photo business. Graphics and charts make your content much more pleasant to the viewer and potential customer because they are more likely to engage in a content they see, rather than the one they read.

Canva Home Page
Canva is a comprehensive design tool for those who do not have any professional designer background. Most people think of it as an image editing program, but it is much more. Everything from printables to PDFs to bills, flyers to infographics and websites can be designed. You may either start from scratch or use their templates, depending on your experience. It offers a web version as well as mobile and desktop apps. Usually, the most frequent Canva users are small company owners, online entrepreneurs, and marketers that need to create their graphics quickly. Also, its interface is very simple and has a whole page with tutorials, so you can get started with it and learn along step by step. If you need a banner for your website, or want to provide your customers with a special offer, you can quickly create a neat graphic in Canva. Another advantage is that it has a free version with over 250,000 templates, 100+ design types and hundreds of thousands free graphics which you can always use.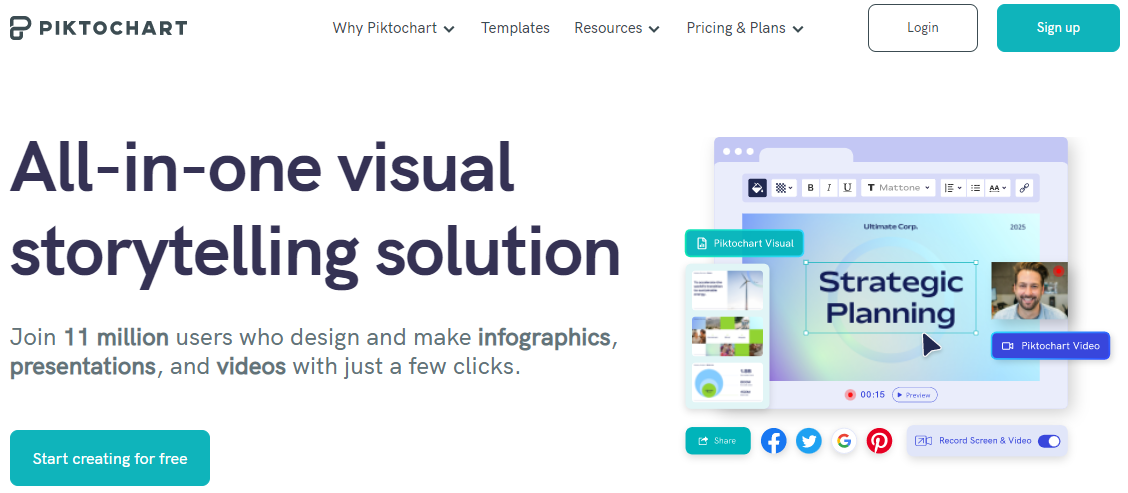 Piktochart Home Page
Charts and infographics are undeniably essential for every business. In the world of photo product industry, it is important to not only display your brand model and products to your customers and partners, but to do it in an attractive way. With Piktochart you can create audience-engaging infographics and charts and save yourself the time and effort of starting from scratch. As claimed by Piktochart themselves, the design tool allows you to create a professional-looking design in about an hour without any prior graphic design knowledge. It is a great tool for employees in HR, marketing, finance, education, nonprofits, and even other fields. Similar to Canva, a built-in media library containing design components, templates, and graphics is also included in Piktochart. The free version of Piktochart provides you with unlimited amount of graphics, traffic overview of your published content as well as many unlimited templates and assets.
5. Social Media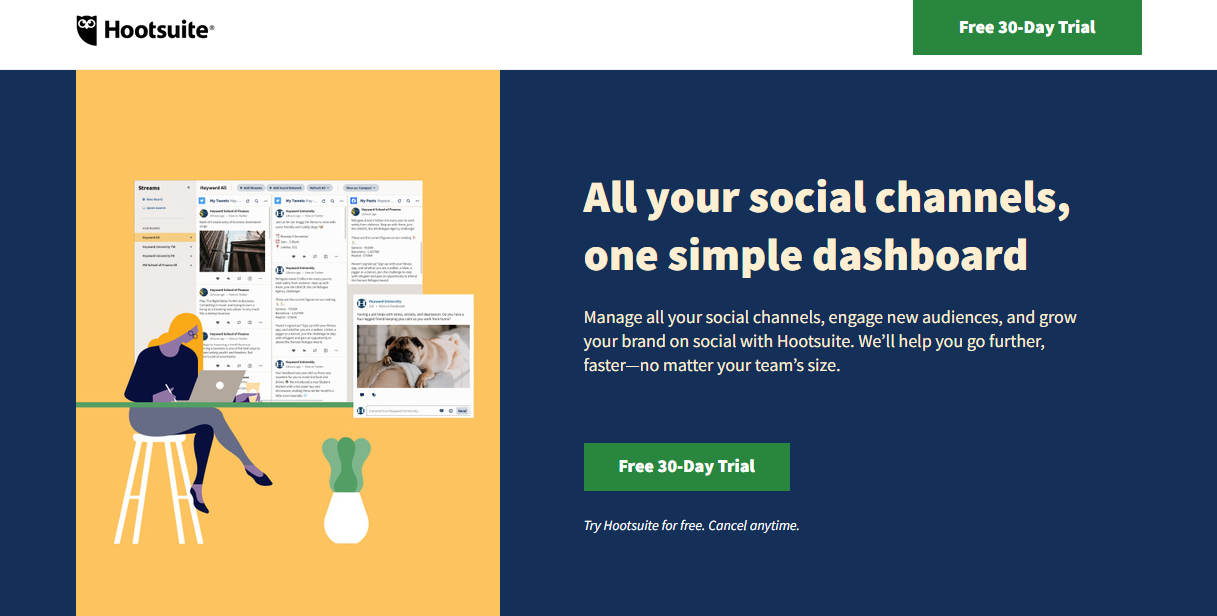 Hootsuite Home Page
Hootsuite is a full-featured social media marketing platform with numerous features and complicated choices that may be used in an infinite number of ways. It provides incredible post-scheduling modifications across all platforms, and after that's done, you can utilize a variety of analytic capabilities to communicate with followers, collaborate on, and assign jobs. Rather than spending too long on preparing social media entries, you can save yourself the time by using hootsuite, and spend more time on your photo products instead! For convenient weekly scheduling, it offers a calendar view with a drag-and-drop interface. It also offers a geosearch feature that lets users track relevant subjects based on their location. You may also freely surf the web and share or bookmark anything that you find interesting. Hootsuite also includes a campaign tool that allows you to employ a variety of intriguing features and fine-tune your social media approach. The professional plan costs 39€ per month. It manages up to 10 social accounts and provides the scheduling of unlimited posts.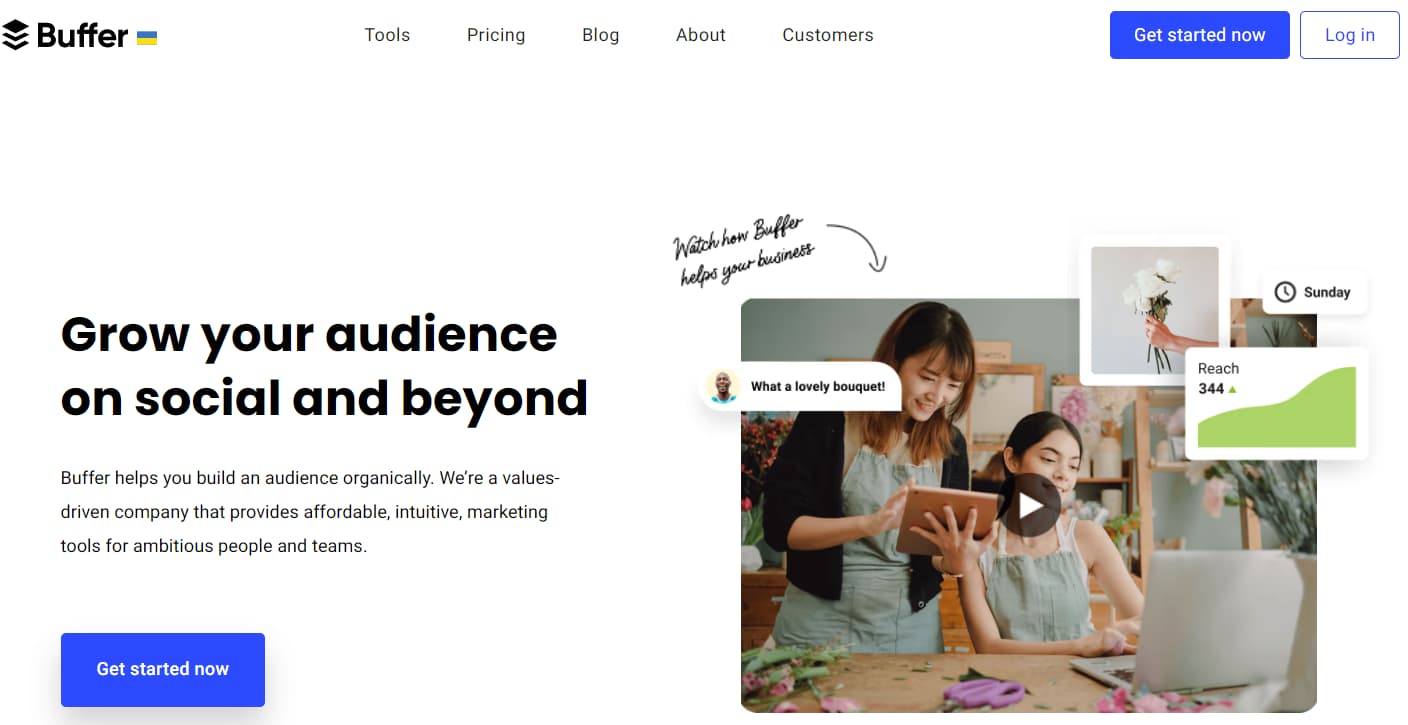 Buffer Home Page
Buffer is a social media posting service that has over 75,000 users worldwide. Social media managers, small company owners, and even major businesses like Microsoft, Business Insider, and the Denver Broncos have all endorsed this product. Buffer has a few distinct social media-related products. Generally, the purpose of this service is to make the scheduling process and all the other tasks that come with it easier. You may make a planned queue of pending social media posts and have them posted automatically. Buffer has a free version that allows users to join 5 social networks, including Twitter, Instagram, Facebook, Google+, and LinkedIn, using three separate identities. You may utilize up to 150 accounts with any premium membership and link them to the same sites as well as Pinterest.
Even though both tools are quite effective, experts advise that Hootsuite is more suitable only for experienced marketers, while Buffer is indeed a more simple version and anyone can quickly learn to work with it.
BONUS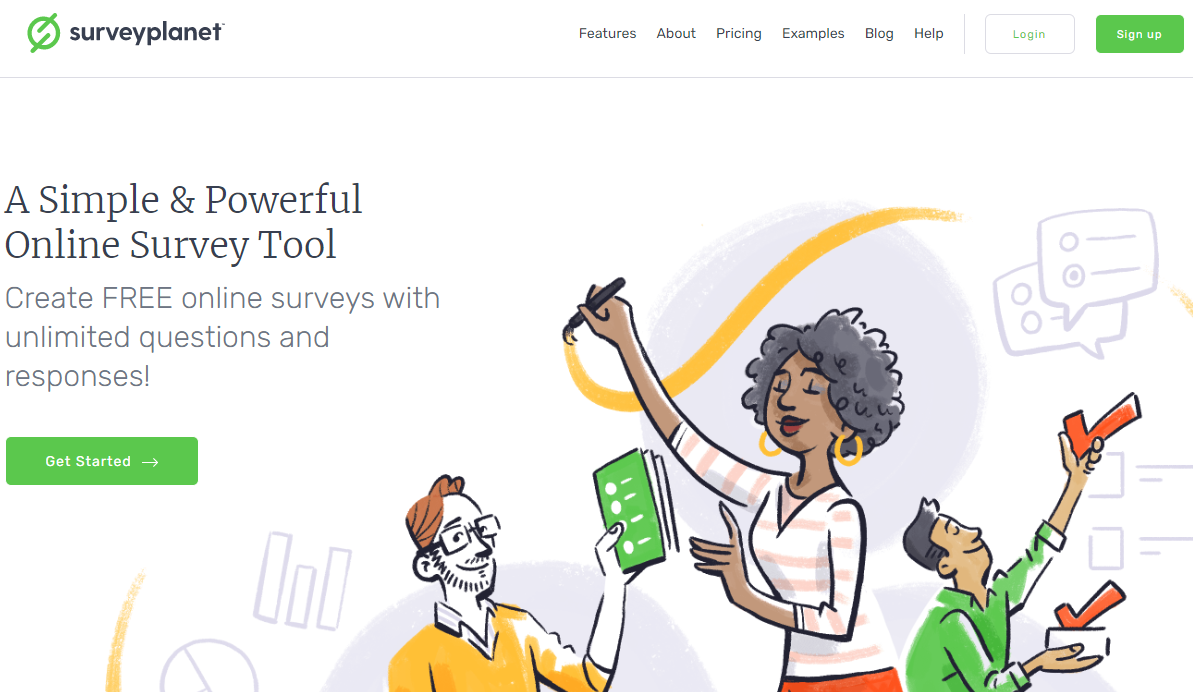 Surveyplanet Home Page
To conclude, this article has presented 10 efficient marketing tools that would be of great use to your photo product business. While such services do indeed make our life much easier, we should also keep an eye on the customer's demands. If you are in the process of making improvements to your business tools and strategy, and you are in need to collect your customers' and partners opinions', you might use Surveyplanet to create free unlimited surveys to get to know your customers' demands better (for free!) that will help you in your photo product business journey.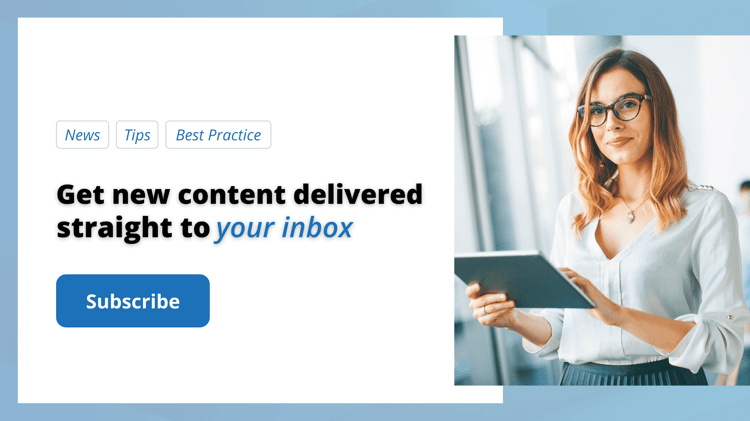 Hey there! I am a Content & Marketing assistant at ip.labs and I love the whole process of article creation! I love being occupied with writing blog posts. They not only provide the readers with significant interesting information but help me, as a writer, to learn a lot of new things throughout the research and blog post finalization process. It is a win-win situation!
FEATURED
PHOTO BUSINESS NEWS RIGHT INTO YOUR INBOX
Sign up for the ip.labs monthly now