7 min read
6 Ways to Grow Photo Business Revenue in Summer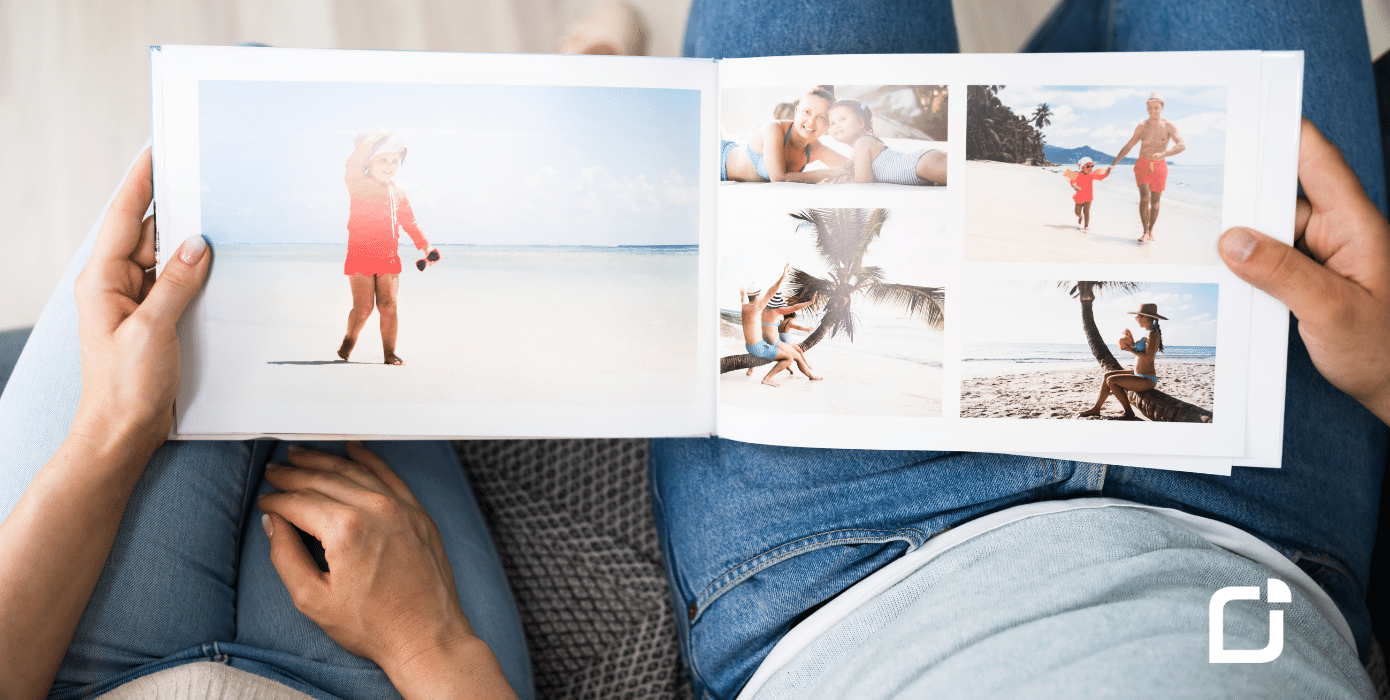 It's very hot outside! The office is quite empty, and photo business decreases for summer. Your customers may take a break and spend their time on vacation. It's a common pattern that sales are low in e-commerce during that slow season. Keep reading to learn how to keep your photo product sales going strong.
---
Contents
---
Summer Blues in Photo Commerce
Retailers try to lower the effect of a summer depression by implementing season sales or offering special "summer products", like limited editions. For a photo business it should be quite easy to add content like themes, layouts, or frames. It is not necessary to create new summer products, if you already have some photo books, wall decor or other customizable products. You can simply use them in any summer or travel-related content.
If you think of your last summer vacation, what is the best souvenir? It is probably not the cheap item you got from a local gift store, but something that will last a way longer – the best souvenirs are your memories!
Your photo products can help people keep their memories and offer them a platform to shine. Especially after two years of a pandemic, it is the first holiday season to take advantage of the summer. These summer holidays are the highlight of many families, couples, and friends. They should be perfect, and your photo products are a great option to keep that feeling on the long run.
In order to make nice offers to your customers, and put great promotional content on your business website, you should always watch out for the trends of any season. In the next section you will find a better insight of the summer trends of 2022 so you can utilize them better in your business plan!
Photo Business Summer Trends 2022
According to leading fashion and lifestyle magazines, bright and fresh colors are trending in 2022 (Goodbye, pastel colors!). You can combine that with classic travel themes like beach or nature. Color blocking - the combination of different bright colors, is something you could address to your customer.
Forbes predicts a summer full of weddings and parties in 2022 because most of us feel they have to make up for the slow Corona times when events rarely happened. Everything had to pause for two years and people are eager to take back their freedom. Keep these things in mind when considering your marketing strategies, because photos make such events unforgettable.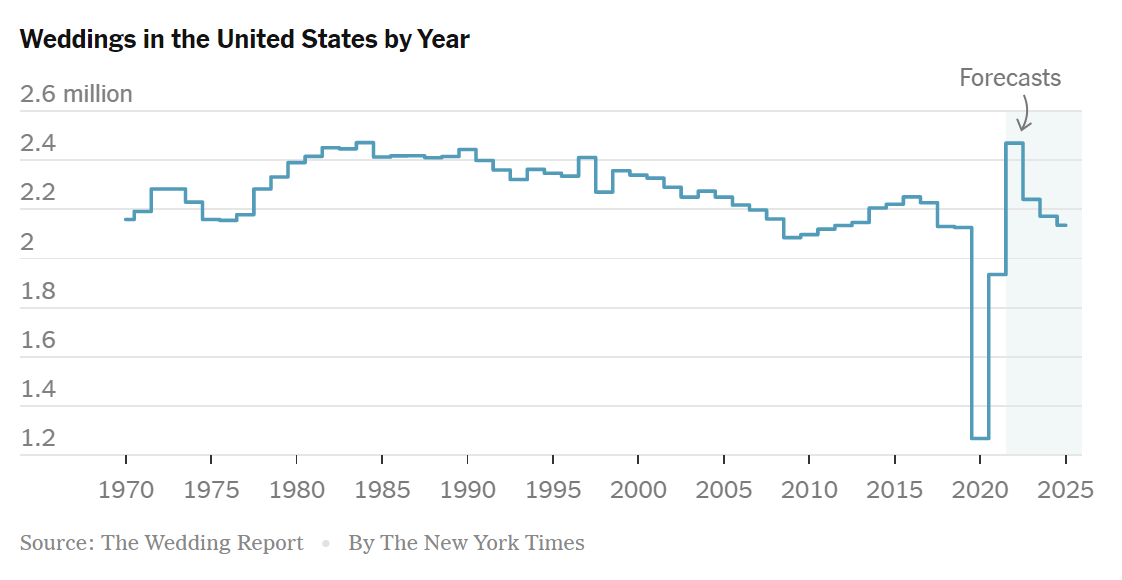 Wedding report by The New York Times. A Forecast predicts more weddings in 2022 than pre-pandemic years.
After all this time, the most important thing for many people this summer is to travel abroad and experience something. People could save their money for two years and are eager to have special vacation time after Covid-19 break. Therefore, you can make it possible to store and share their holiday memories with your photo products.
6 Steps to Better Sales During Summer Holiday Season
These are the things to consider for your photo product business during summer:
1) Create content & plan your marketing strategy
Use summer trends and classic content to navigate your customer's desires, that way you can address themes, layouts, stickers, and frames to a broad group of potential buyers. Consider choosing between travel, wedding, party or festival content.
2) Use photo product portfolio & content that suits your customer's needs
It is essential to your business to make sure that your photo product portfolio & content suits your customers' needs. Depending on your target customer segment, you can link straight to cool and fresh photo product themes, or you can preselect a classic summer holiday theme. It doesn't matter if you connect that content to photo books, wall decor or any other type of photo product. In case you want to dive a bit deeper and add new customizable products to your portfolio, you can utilize anything you can think of. Products of daily use like mugs, towels, or smartphone cases can be a great placeholder for photos. As well as something more special like a puzzle or a money box to start your savings for next year's summer holiday trip.
3) Address your proposals to your target groups
Third, you have to make sure to address your proposals directly to your target groups. It is important to use your marketing channels to show off the benefits of your products. For example, this could be a special layout or a theme promoted by a highlighted price. Use your channels to inform your customers of your seasonal promotions.
4) Time or target your actions properly
As a photo business product owner, you should time or target your actions properly. The standard summer holiday season goes along with school free time - the best time for family trips. For people without kids, vacation time is often short before or after school holidays. A good timing would therefore be a couple of weeks after school started again if you cannot target both groups separately. Such a strategy ensures that all your customers had already spent their time on vacation.
5) Use photo product software to improve the customer journey
Your photo product editors can help you to achieve the goals of your marketing campaigns: deeplink straight to the photo product editor to cut the customer journey as short as possible, and include summer themes or layouts to your marketing campaign.
6) Track your actions & take insights for next year
There are several tools to measure and identify the special needs of your users. You can then use the generated data for optimizing next year's marketing campaigns. Stop wasting money by ignoring what you could have learned this season, and draw your lessons from it.
Take Advantage of Your Photo Business Software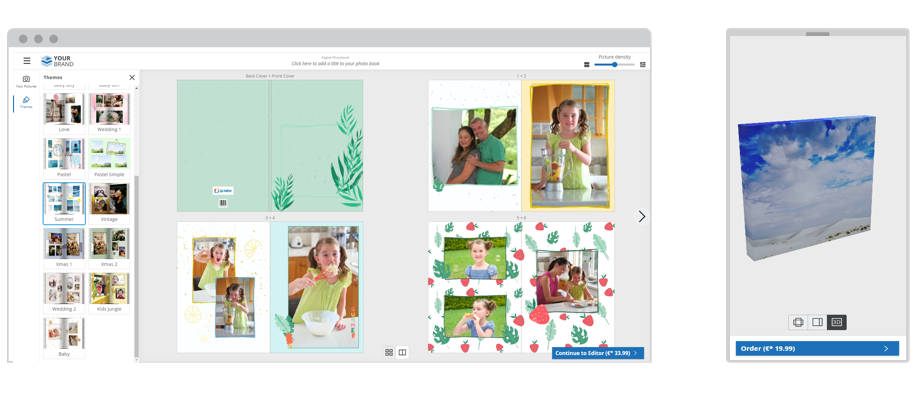 Send your customers right from an ad into your photo product editor, opening a summer theme.
It is important for shoppers that creating a photo product does not take too much time. Yes, people love to reminisce and look at their summer holiday snapshots, but respect their time. Every one of us has much on their plate, once we are back from holidays, haven't we? Make sure to provide some layouts for automatic generated photo books. The customer simply has to decide which photos to choose and the placing of the photos will be done by the software automatically depending on the preselected theme.
Let your customer take a shortcut to their desired products by deep linking straight to a theme or layout. Take all advantages of your photo business software and guide your users directly to a themed photo book. For example, your marketing campaign refers to a beach or mountain trip? You can use a link, where a holiday theme or other options are already preselected. Take corresponding themes or layouts and connect them to your campaign, e.g. a Google Ad. In combination with automatic picture placement, the photo book is finished in no time.
---
Don't be afraid of the summer slump. The more memories (or photos) your customers make, the more photo products they'll make afterwards. In these steps, analyze your customers' behavior and current trends. This will allow you to plan your marketing strategy in the best possible way and use your photo product software to increase sales.
After summer break is before Christmas season! To get your photo product business ready in time for this peak season, check out our blog post about "How to Prepare your Photo Business for High Season".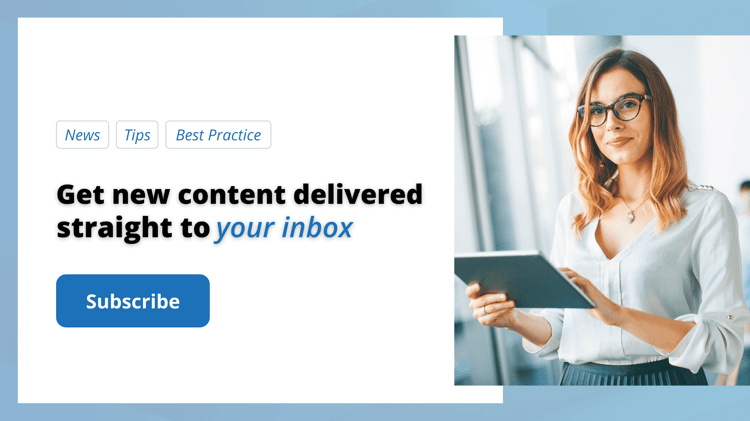 Hi, I'm Markus and I work as a Customer Success Manager at ip.labs. E-commerce and especially customization of products are important parts of my career. Out of the office, I like spending time outside hiking or cycling.
FEATURED
PHOTO BUSINESS NEWS RIGHT INTO YOUR INBOX
Sign up for the ip.labs monthly now