6 min read
3 Ways to Fuel Growth for your Photo Business with Mobile Apps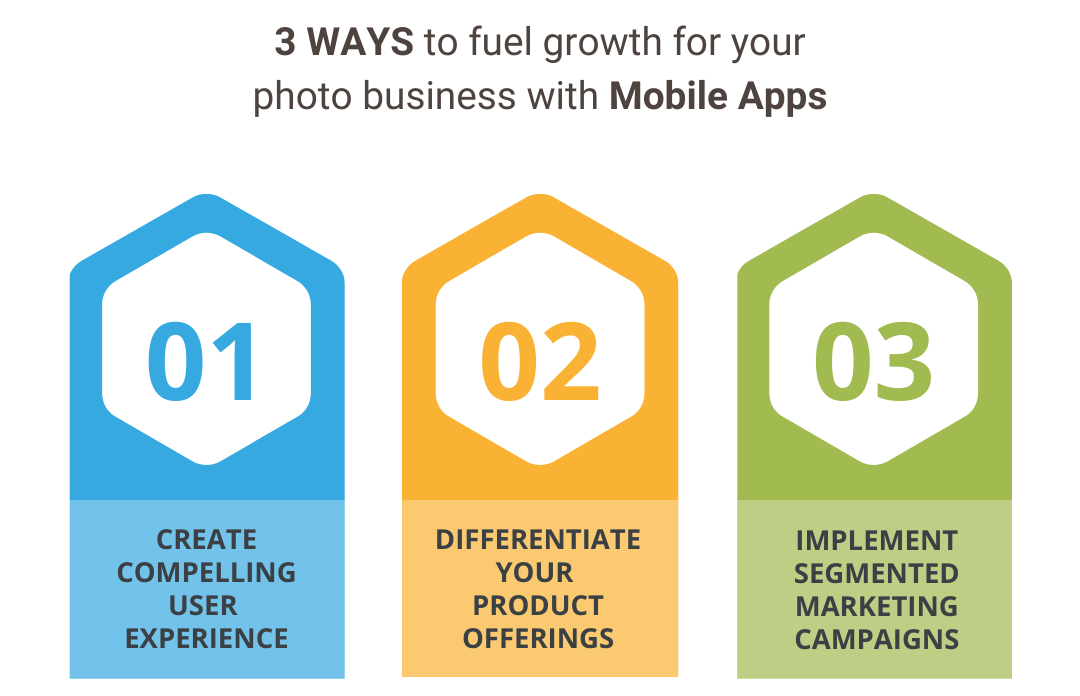 At ip.labs we recently performed the exercise of defining customer personas that are or could be the main users of a photo commerce app.
Here are the 3 key insights which can help you boost your photo business effectively in the mobile market.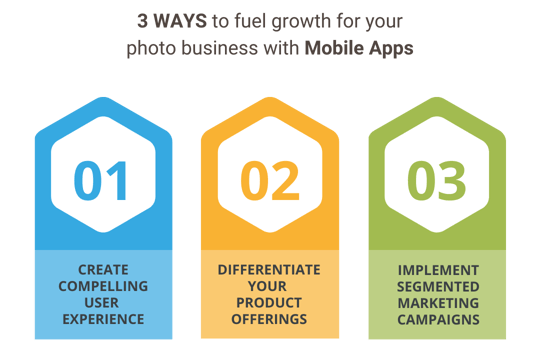 1. Get the early steps right in the app
Creating a photo product is not just another e-commerce purchase. There's a lot of meaning to begin creating the photo products for people. It requires users to go down the memory lane, curate memories, choose and design a product to convert those special moments to a story. There is a lot of work that needs to be done when designing a personalised photo product, and things can get really messy real fast, specially in a smaller screen space of a mobile. A vital point to allow your users to continue enjoying the experience is to have a mobile first design which delivers and a clean and easy to use software experience.
A usual customer journey of a photo commerce app starts at the point of choosing the right photo product for the pictures. When a user lands to a photo commerce app, the customer journey must be ready to offer the right kind of products that will make the user stick to the app. At this step, it's important to understand the main user segment you are targeting and offer products that can be attractive to these segments. For example, GenZ and Millennials are very interested in creative product offerings and your app can serve this giant user base by offering creative designs like Story based photo books or printable objects like personalised consumables, travel post cards etc.

The next step of the process is the task of selecting the right pictures for that special memory. And smartphones come pretty handy here. It is the main device where pictures are taken, and the primary source used for researching the product the user wants to personalise their photo moments with.
Research shows that creation of photo products are mostly triggered by events like travel trips, holidays, birthdays and anniversaries. At this step, your photo commerce app could be present as an assistant, reducing the daunting task of selecting pictures from 2 weeks to less than 10 mins by using AI to curate user's pictures for them. Further, the app could also offer a way to allow wireless transfer of curated pictures from a smartphone to a bigger device, where users can design their product comfortably.

2. Differentiate your product offerings based on user segments
There are 2 main user segments that are served in the apps and their needs vary pretty much.
Lydia - A Single Young Woman

Anna and Jonas - A couple with kids
As a photo commerce app, you need to differentiate your product offerings with a sharper focus on these user segments.
Single Young Female - Lydia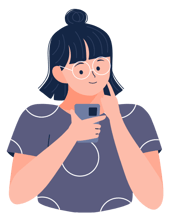 The main objective of this user segment is to stay connected and use a photo commerce app to have a creative outlet and share their photo memories in printed and digital form. They love to develop fast and easy products like photo magnets or printed objects. The main pet peeve of this group is to spend a lot of time in designing a product and lack of novelty.
As a photo commerce app, you could cater to this segment by offering new and creative products, effortless connection to different photo sources and ability to share a digital version of their designed products.
Couple With Kids - Anna and Jonas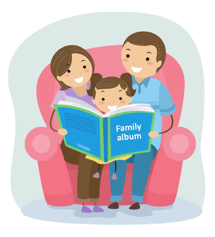 This is the turning point where many users move from individually designing their photo memories to making it a collaborative experience.
The main objective of this user group is to be able to design a photo product with which they can capture memorable life moments and share it with their family and friends. Their main pet peeve is to create projects under pressure, to spend time with complex software. Receiving suggestions when a memorable moment can be converted into a photo product.
As a photo commerce app, here you could cater to this segment by using smart curated photo books. Since this user segment likes to make designing a photo product a collaborative experience, it is vital that your app can offer them ways to collect pictures from different sources and provide them a way to collaborate during different steps of their journey. This can be done by providing users to be able to work on their project on different screen sizes and allow joint accounts for making the process collaborative.
Further, upselling and including value adding service product suggestions like physical stickers, glitter etc. in the cart can also enable these users to continue having the fun when they receive the photo book and give final touches to it as a family.
3. Develop a strong and user segmented marketing strategy
Since user acquisition costs for mobile platforms are higher than for other channels, having efficient and streamlined marketing efforts can really get you a good payback and further fuel your growth.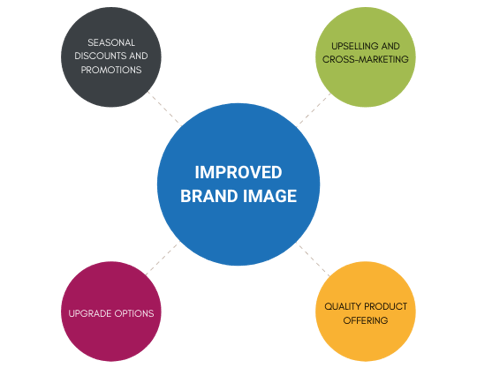 The easiest option here is to use push notifications as a trigger to inspire users with new ideas about what they can do with their pictures, motivate them by notifying them of events when a photo print worthy moment is coming up and nudge them along the way to keep working on their unfinished projects.
The market of photo commerce is already very competitive and users are looking a lot at the prices when they are choosing their supplier. At this point it becomes more important to offer promotions and seasonal discounts. Seasonal discounts and promotions teamed up with a quality product offering can keep these users coming back to your app.
Another channel to leverage marketing is by using upselling and cross marketing of products. On an average, a user orders 1 photo book a year and other printed objects 3-5 times a year. Offering upgrade options to users and providing recommendations on similar products can help you improve your sales further and increase your lifetime value from each user.
Last but the most important factor is to develop a conscious brand image and show your users that you are serious about sustainability, and they can trust you in making better choices which are also good for the planet.
We hope this article helps you in getting some insights around this market. Need a sparring partner to discuss your photo businesses mobile strategy with? Our team is happy to take your call!

This article has last been updated on 11-07-2022
Hey there. I am a Product Person. I love to develop digital products and finding the right market fit for it. In my free time I like to travel or immerse in the city life of Cologne
FEATURED
PHOTO BUSINESS NEWS RIGHT INTO YOUR INBOX
Sign up for the ip.labs monthly now